August 9, 2019
Meet Ralphie – Chief Cheer Officer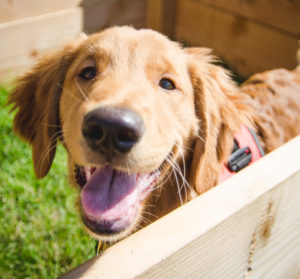 For many, a furry friend is just the right thing to put a smile on your face when times are tough. Some would say that dogs can sense when humans are having a rough day or maybe just don't feel the best, and one of their many skills is quietly sitting next to them and providing a silent support. We've taken that into consideration here at Ronald McDonald House Charities in Omaha and we have recently hired our newest staff member.
Meet Ralphie – Chief Cheer Officer of Ronald McDonald House Charities in Omaha. 
Ralphie is a six month old Golden Retriever who is currently in training to become the resident therapy dog. A dog who, once fully trained, will spend his work day supporting the children and families staying at the House. Currently, Ralphie visits the House on Fridays, allowing him an opportunity to get to know his new office space and begin practicing his craft. When not in the office, he goes home with Marketing Manager Ann Woodford where he continues to work on his training and also plays with his older brother, Wilbur.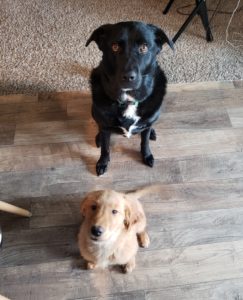 Ralphie is working hard with Jessica Gleason of Pups With A Purpose in her specially designed Therapy Dog Readiness Training, as well as her Dogs in Facilities Training Program. During these training programs, he will learn the basic commands such as sit, down, come, out, leave it and stay. Jessica will also guide us step-by-step through the certification process so when Ralphie turns one year old, he will be fully ready to be certified as a therapy dog. Jessica also provides a custom training program for dogs who will be working in facilities such as schools, hospitals, and our very own House. Through our partnership with Pups With A Purpose, we will create programs for the families and Ralphie to experience together, such as Reading With Ralphie. By creating programming with Ralphie, it not only gives the families an opportunity to have the support of a therapy dog in the House, but it also provides learning opportunities for all, whether it be learning how to interact with a certified therapy or service animal or trying activities such as crafts or reading.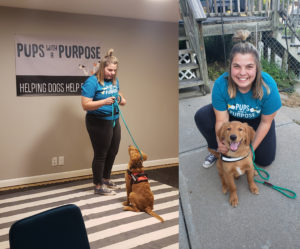 We will continue to document Ralphie's journey at the House and we invite everyone to follow him on Facebook and Instagram (@RMHCRalphie).
If you would like to schedule a tour or an opportunity to meet Ralphie, please contact Ann at 402-346-9377 or awoodford@rmhcomaha.org.