June 7, 2023
Making the Normal Possible
Too often, our families have their lives disrupted by illness.
Vacations are cancelled. Celebrations are postponed. Even something as simple as a playdate with friends requires a list of precautions and contingency plans. The ability to have some semblance of a normal childhood mostly vanishes – for the patient and their siblings – while parents must stare down ever-mounting obstacles surrounded by an ocean of new information.
Faced with a situation like this, it helps to have a comprehensive support system that allows the family to manage their circumstances and potentially reclaim a sliver of normalcy. It helps to have a Ronald McDonald House.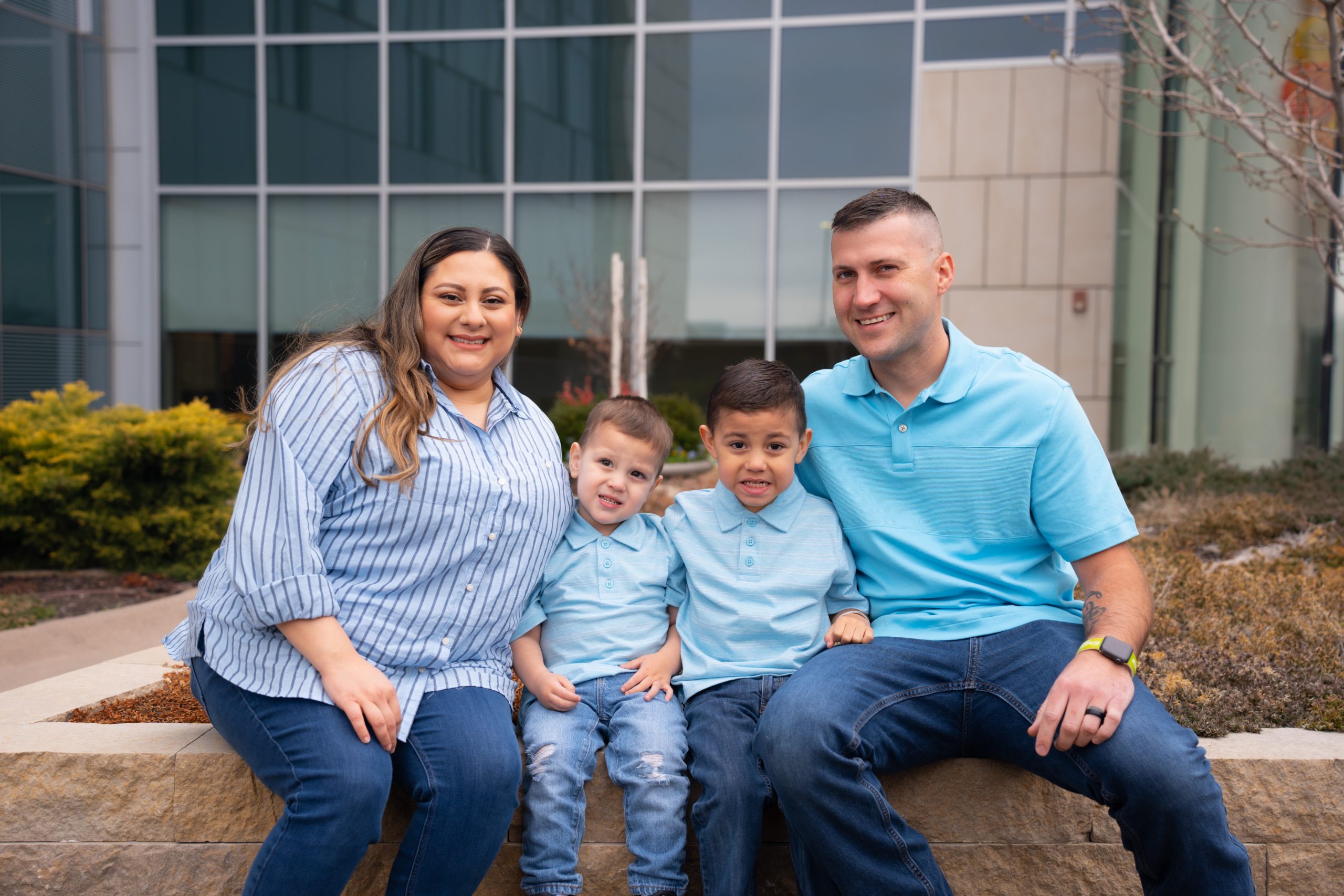 Ethan Griggs' first 13 months of life were mostly uneventful. The firstborn of Jennifer and Zac, Ethan was a perfectly healthy, typical one-year-old infant. Until one morning, in November 2019, when Ethan woke up sick. He was vomiting and very lethargic. It was concerning enough that Jennifer and Zac took Ethan to the doctor, who prescribed some nausea medicine and sent him home. Later that night, Jennifer noticed Ethan's leg was turning purple. She said they then took him to the emergency room.
"And our nightmare just kind of started from there."
At the hospital near their Gentry, Arkansas home, it was clear Ethan had become severely dehydrated, but the medical team was struggling to get an IV inserted. Even after they finally began to replenish Ethan's fluids, he didn't improve, and at one point, his vital signs completely tanked. Ethan coded right there on the table.
Jennifer says the doctors were able to resuscitate him, but "I honestly didn't know how long we would have him for."
There were so many unknowns in that moment, and the hospital wasn't equipped to handle a case like Ethan's, so he was life-flighted to a children's hospital in Little Rock, more than three hours away. Once there, doctors discovered that roughly 80 percent of his colon was necrotic tissue that had to be removed. Because his digestive system was so impaired, Ethan received his nutrition from total parenteral nutrition (TPN) via IV line. While this gave his intestines time to rest, it also caused damage to his liver.
According to Jennifer, Ethan was in heart failure, liver failure, kidney failure, and intestinal failure.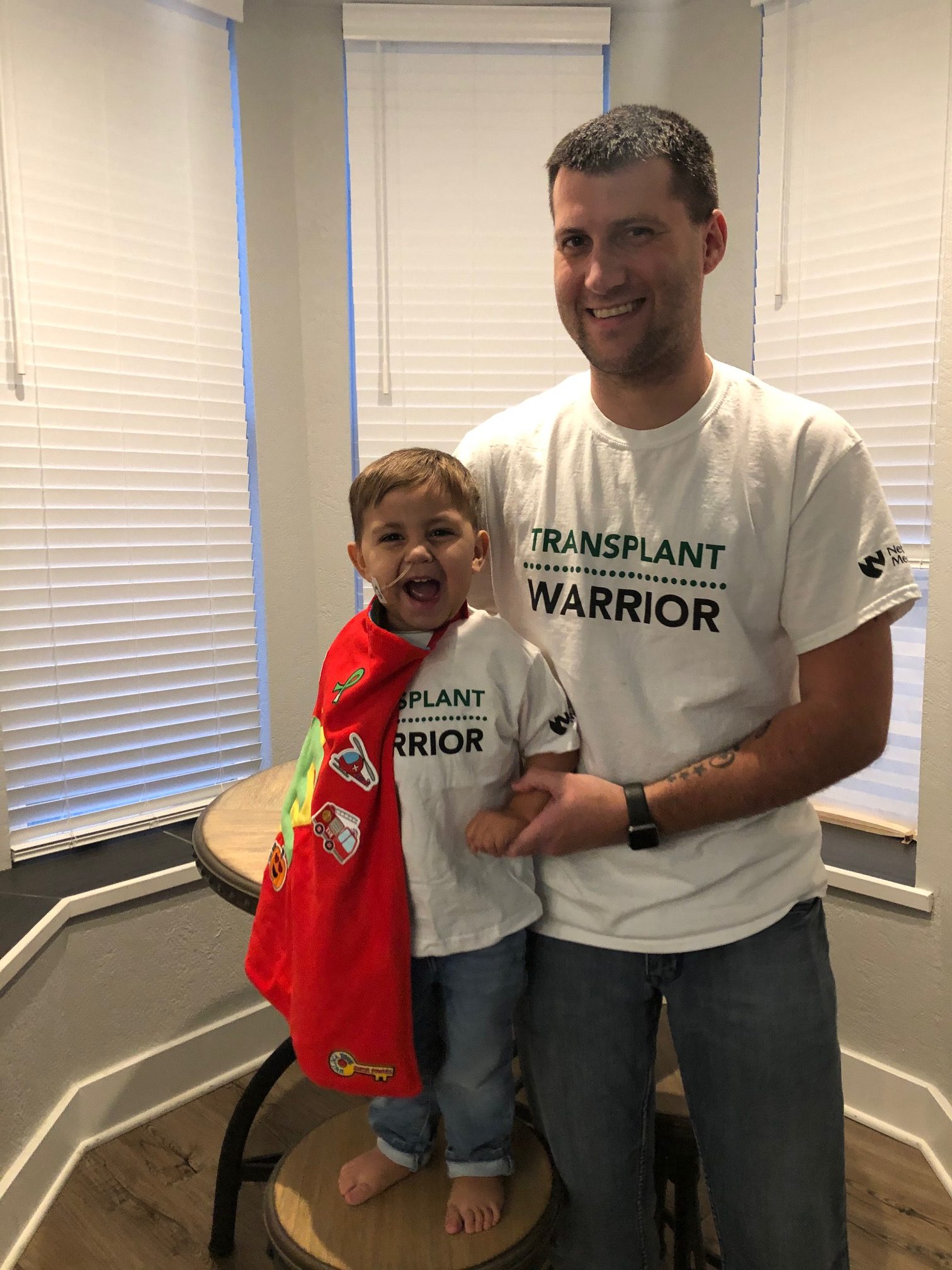 For the next month, Ethan stayed in the PICU, though his condition wasn't improving. It was around that time that Jennifer heard about Dr. David Mercer and the intestinal rehabilitation program (IRP) at Nebraska Medicine.
When Ethan was flown to Omaha the day after Christmas 2019, his condition was quite poor. Initially there were concerns that he would need a multi-organ transplant, but the IRP team began working with Ethan to wean him off TPN and put him on regular feeds via G-tube. This also helped his liver begin to recover.
While Ethan recovered in the hospital, Jennifer and Zac stayed at the Ronald McDonald House, where they could get hot meals, a cozy bed, and most importantly, some much-needed rest. They would often take shifts, with one parent staying in the hospital at Ethan's side, while the other would get some peaceful sleep at the House. Jennifer describes it as, "a weight off your shoulders, not having machines beeping constantly, or nurses coming to poke or prod Ethan and make him cry every couple of hours. It was nice knowing that when one of us is in the hospital, the other one's getting a good night's rest so they can be prepared to stay up the next night with Ethan."
She appreciated having a place that felt so comfortable, saying, "We have all the stuff that we need. We've always been treated nicely. It just really feels like home."
Ethan was eventually discharged in February 2020, although doctors told his parents that his kidneys were still in bad shape. He would almost certainly need a kidney transplant. And after a few rounds of dialysis back home in Arkansas, it was determined that Ethan could be listed for transplant. Thankfully, Zac was a match to be a donor, and in November of that year, Ethan received a new kidney.
Jennifer has been incredibly appreciative of both the transplant and IRP teams at Nebraska Medicine, especially Dr. Mercer (who is also an RMHC in Omaha board member). "He's very nice, he always listens to our concerns and explains everything." Having a doctor who is so attentive made it that much easier for Jennifer and Zac to relax, knowing that Ethan was so well cared for.
And while the doctors cared for Ethan, the rest of the family – including younger brother, Kayden – was cared for at the Ronald McDonald House. One of the things Jennifer appreciates about the House is how sick kids can just be kids here, saying, "You don't look at our kids differently. You don't treat them differently."
At home, it can be difficult explaining Ethan's condition, or telling others what they need to do to protect his immune system. In the House, everyone gets it.
Jennifer says, "I knew he was safe."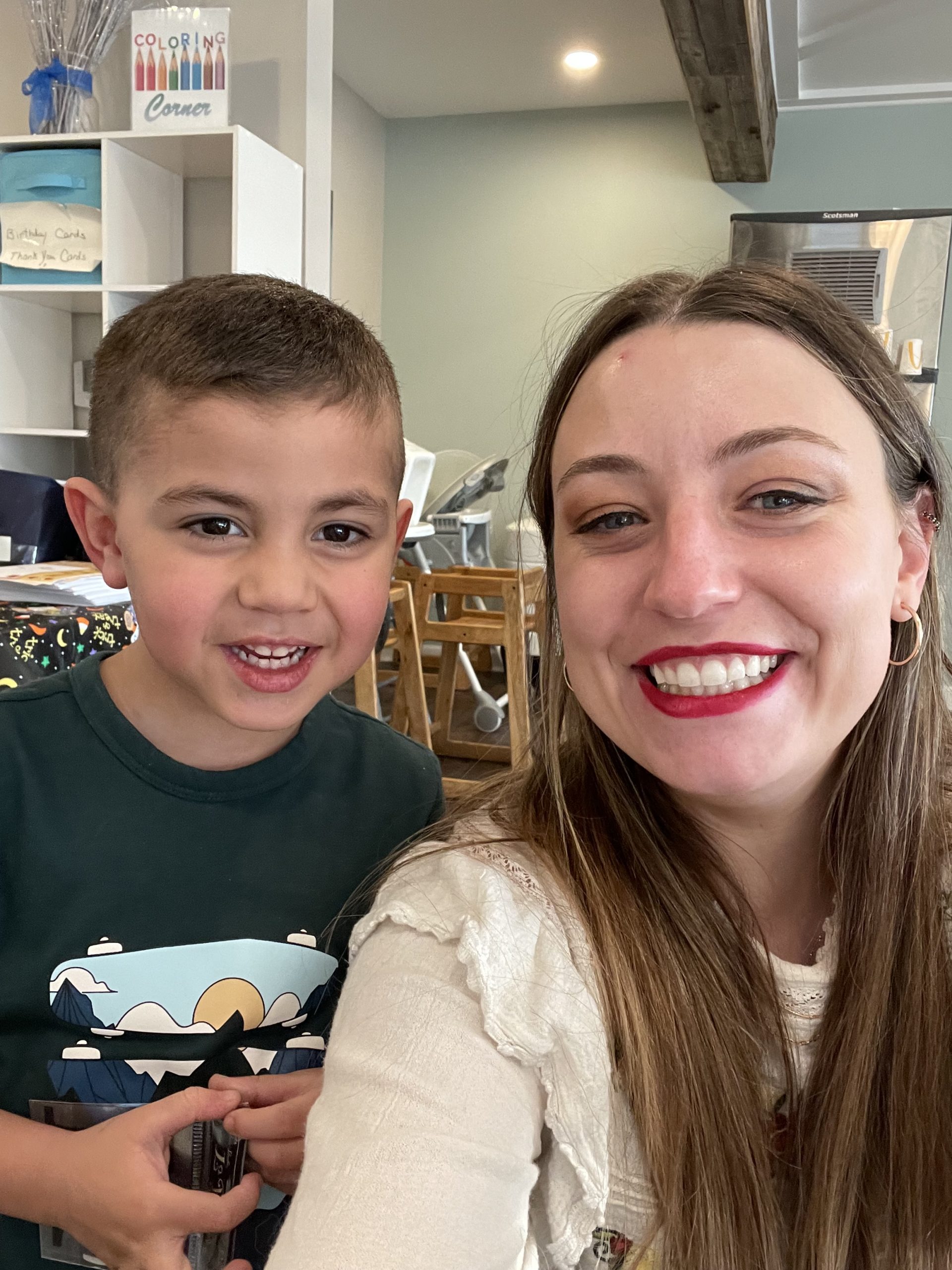 That was true when Ethan participated in some of the programs offered here, including with Completely KIDS and Project Sunshine, as well as when he was hanging out with two of his best friends, Chief Cheer Officer, Ralphie the therapy dog, and Emily Swett, RMHC Marketing and Events Manager.
"Emily is his favorite person," Jennifer says.
It's a common occurrence to see Ethan leading Emily to a table in the kitchen for craft time, or showing off his new toy at her desk. He adores the extra attention, and for Emily, "Seeing his face light up when I arrive at work really makes my day."
As for Ralphie, Ethan doesn't get many chances to play with a dog – being in and out of hospitals makes caring for a pet at home difficult – so he relishes those opportunities.
During a recent stay in Omaha, Jennifer was able to participate in an art therapy session at the House. She, along with other parents, went through a counselor-led activity to use painting and art as an outlet for the stresses they were facing. Jennifer said she greatly enjoyed the activity, along with some yoga classes she tried, and when she walked out, she says she felt relaxed, adding that programs like that "help me be a better mom."
Ethan also had a chance to create some art of his own.
Jennifer says, "His favorite color is green, and he will argue with anyone who tries to give him something that he can't color all green. I remember the week before Thanksgiving, he worked on a turkey. He colored all of it green."
She says as December rolled around, Ethan made gingerbread creations and snowflakes, all in green. He also made an all-green Christmas tree out of paper plates, but, well, that seems less noteworthy in this context.
All these items found themselves in the Griggs household when they were able to finally head home, just in time to decorate for Christmas.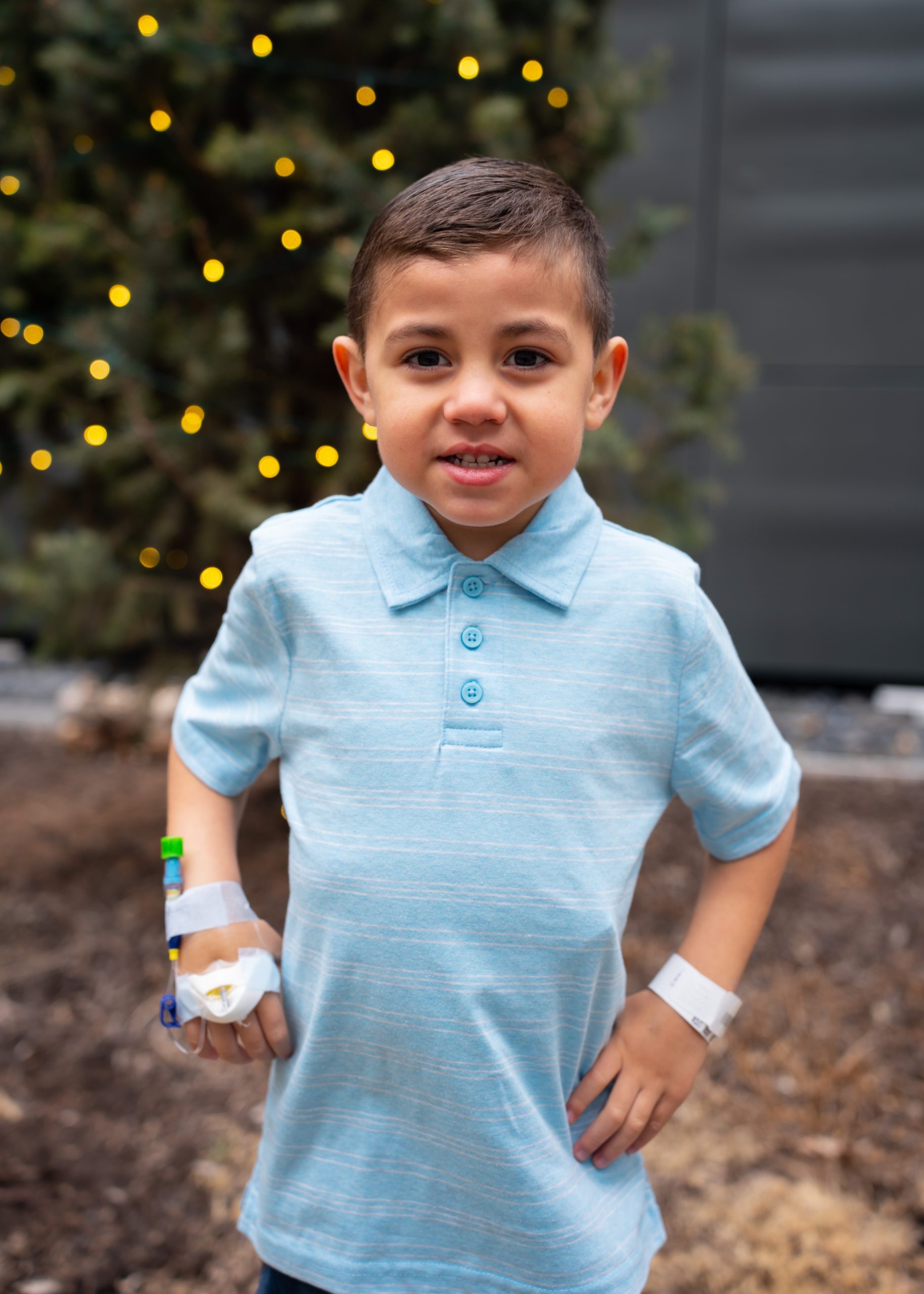 Moving forward, the doctors would like to see Ethan every six months to check on his kidney, although with his intestinal rehab issues, the family knows more frequent visits to Omaha are inevitable. Thankfully, Ethan continues to make progress, eating more food by mouth and only needing half of his calories from his G-tube.
Jennifer says seeing that progress "has given us more hope. He's grown so much. When he had his transplant [doctors] were worried about his growth and his height. Now he's taller than an average four-year-old."
But even with progress, there will be bumps along the way. To help navigate those bumps, the Griggs family has a strong support system, including the team at RMHC in Omaha.
Earlier this spring, Jennifer had plans to get some family photos taken, just in time for Easter. Of course, the plans had to change. The family came to Omaha for what they thought would be a simple check-up, but Ethan got sick and needed to be admitted to the hospital for a while. The family photo shoot had to be cancelled.
Jennifer was lamenting this fact to Emily Swett, who passed the info to RMHC Community Relations Manager, Ann Woodford, who happened to know a generous photographer by the name Kaleb Duncan. Ann asked Kaleb if he could help, and he was happy to oblige. Ethan's doctors said it was okay for him to participate, Kaleb donated his time, and the Griggs family got their session, right outside the hospital.
Those photos may not capture life in the way the family expected, but they do capture life in the way it is. It's unpredictable and challenging, beautiful and cherished.
At one point during the shoot, Kaleb captured the boys running toward him, pure joy on their faces. The best part of these photos is that there isn't any real purpose to their running. They weren't hurrying to make it to an appointment on time. They weren't racing inside for a medical emergency. The photographer suggested it, the kids thought it would be fun, so they ran. They ran, and they smiled, and they laughed.
Childhood doesn't get much more normal than that.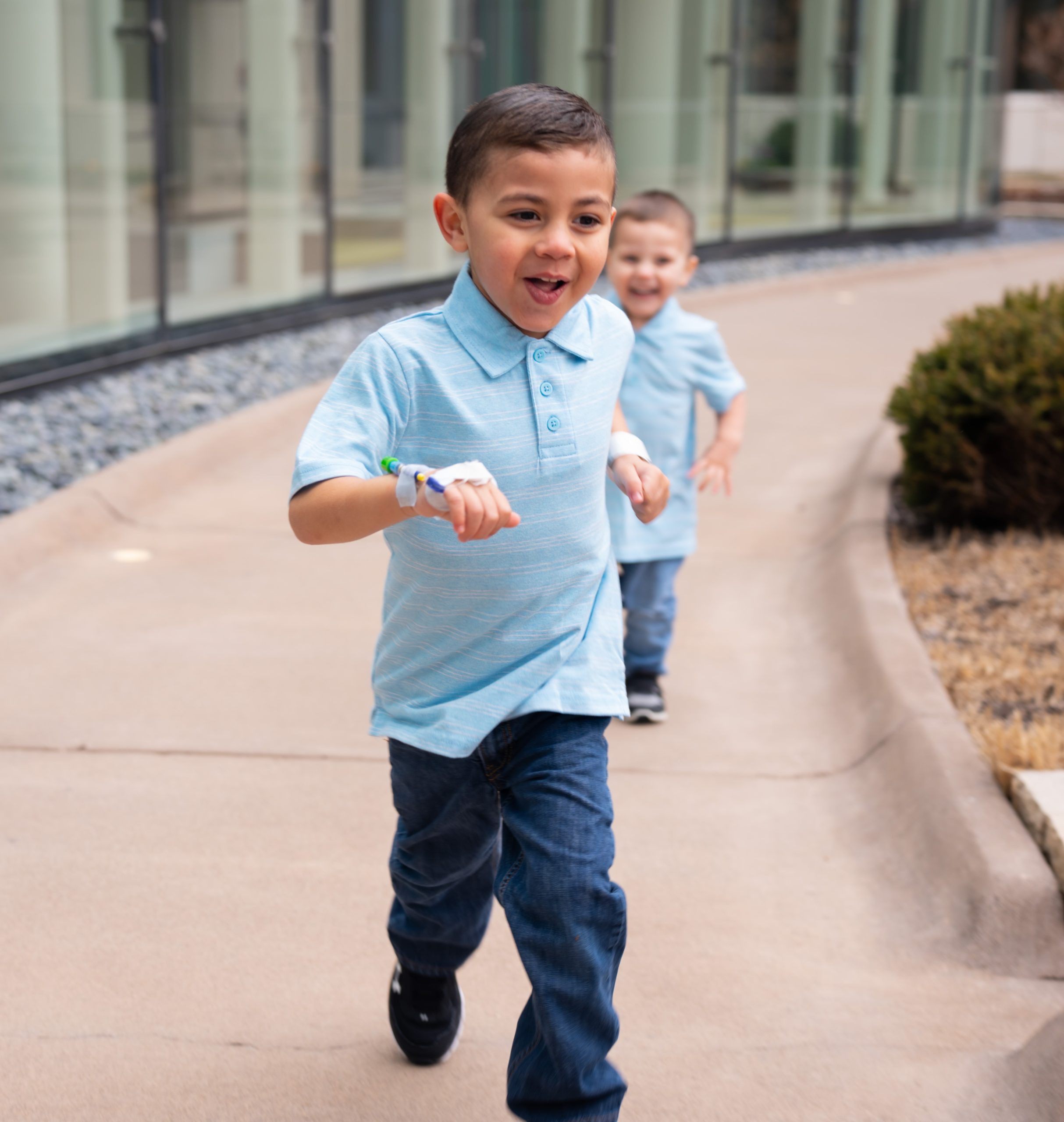 To help bring a little normalcy to families like Ethan's, make a donation here.