September 17, 2020
Light Up The Night Raises Nearly $98,000 For Families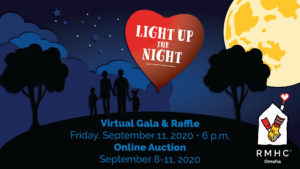 At the beginning of the year, September 11, 2020 was a night planned to be the annual Wings & Wheels gala – a night of viewing exotic cars and aircraft in a private airplane hangar, complete with local gourmet small bites and cocktails, entertainment, and a live auction, all in person. Come mid-June, we knew that we would need to pivot this year, adjusting to the challenges of a global pandemic. In a time where the world faces so many challenges, we find opportunity and new ways of supporting the families who need us most. 
Families who are no strangers to masks and quarantining. Families who benefit from a comforting and safe place to stay. A place to heal. 
Our Ronald McDonald House, right here in Omaha. 
After plenty of brainstorming and strategic partner conversations, our Light Up The Night Virtual Gala was born.
On a gloomy, Friday night in Omaha, we invited our staff, friends, families, supporters and partners to join us from the comforts of their own home in our first ever virtual gala on YouTube live. After many cancelled events, our team knew it was imperative to host an event that was not only unique, engaging and fun for our supporters, but also one that would raise great awareness and generate support for the families we serve. 
Light Up The Night was held on Friday, September 11, 2020 from 6:00-7:00 p.m. To kick off the night, our wonderful emcees Scott Voorhees (1110 KFAB) and Jonathan Leymaster (Prudential Financial) joined CEO Lindsey Rai Kortan at the House as they broadcasted a live video program. We started with gratitude for all event sponsors including title sponsor Nebraska Medicine, the planning committee and the RMHC board of directors. Following a short message from Lindsey Rai we debuted two videos highlighting the Longoria family and the Abood family, both families who stayed at RMHC while their children received life-saving medical treatment (view the videos below).
The entertainment for the evening was provided by dueling piano players, Tony and Jerry, of Pianopalooza out of Des Moines, Iowa. Event attendees showed their support for the House by making donations and in turn their favorite songs were played by Tony and Jerry. Guests were encouraged to dance and sing along from their homes, where they also provided virtual rounds of applause in the chat box.
Light Up The Night also offered an online raffle and silent auction. The raffle included gift cards donated by local establishments, salon service packages, jewelry and autographed memorabilia. The silent auction featuring golf packages, local sporting events, furniture and luxury travel opportunities. Raffle winners were drawn during the live program and the auction closed just 30 minutes after the program closed.
After an entertaining evening of celebrating the families who stay at RMHC during some of their most challenging times, our community came together and raised nearly $98,000. We are so incredibly humbled and grateful for all of the support we receive, not just around this event, but from generous supporters like you, all year long. From the bottom of our hearts, thank you. We invite you to watch the full recorded program here.
We look forward to a time where we can host in-person events again, but for now, we encourage you to help us to lift up the families we serve by visiting our website and social media channels to see how you can get involved today.