April 25, 2017
Katerina's Story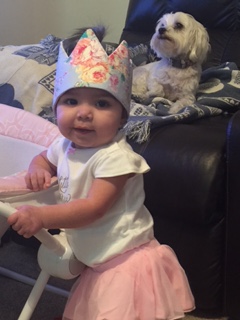 Katerina and her twin sister Emma were born in December of 2015, to their parents Tara and Oskard. Unfortunately, the girls were born six weeks early, and had to stay in the NICU in Memphis, Tennessee for three weeks. Once they were discharged, Tara and Oskard hoped it would be smooth sailing, or at least as smooth as it can be with twins.
But when Katerina came home, she was extremely fussy and her parents noticed blood in her diaper. They rushed her to the emergency room, where she was whisked into the operating room for a life-saving surgery. The doctors found necrotizing enterocolitis, which meant part of her intestine was dying. Initially it looked like only a small portion of the intestine would be affected, but her condition was more serious than they hoped. Katerina entered the surgery with 155 centimeters of small intestine. By the end of the operation, only eight centimeters remained.
At that time, Katerina weighed six pounds. She was in critical condition and was placed on a ventilator for the next week, but that led to an additional four pounds of fluid on her body. The doctors were not sure she would make it through the week, let alone her first year. Katerina did make it through that week, and another, and another, at which point her parents learned about Dr. Mercer and the Intestinal Rehabilitation Program at Nebraska Medicine. Being an enlisted member of the U.S. Navy, Tara needed approval before they could be transferred. Thankfully, they received that approval to be medically transferred to Omaha, but on the flight here, she could only bring 25 pounds of belongings. Tara and Katerina were headed to a new city, hundreds of miles away, with nothing but a suitcase and the hope of better health. Oskard, Emma, and their oldest child, Jefferson, were not able to make the trip, so Tara was going to have a lot on her plate. Then, she was introduced to the Ronald McDonald House.
Tara loved staying at the House because of the amazing support system it offered. She says she felt like a part of that community, since many of the parents and children were also dealing with Short Bowel Syndrome, just like Katerina. Tara was incredible grateful for the volunteer groups who would come in and cook dinner, as she spent long days in the hospital, so having to figure out where to get food each night would've been yet another struggle. Because Tara didn't have much luggage with her, the free laundry service at the House was a huge help.
A week after being transferred to Omaha, Katerina underwent another surgery, and while she recovered at the House, Tara was able to spend nearly two months around those other families to receive even more love and support for the challenges ahead. The Ronald McDonald House and the Omaha community was there for Tara when she needed it most, so she's paying that forward to some of the families currently staying here. She recently took the time to cook a dinner as part of our Meals That Heal program.
Today, Katerina is 15 months old and thriving. She's going to require ongoing care for her condition, but despite all of that, she has a bright and bubbly personality to accompany her fighting spirit.
Support families like Katerina's. Donate today.