July 31, 2017
Jozlyn's Story
It was early May, and Brandi and her fiancée Paul were beaming with excitement over the upcoming birth of their twins, a boy and a girl. Brandi was 26 weeks pregnant, but she already looked forward to their new life as a family of four. At that time, however, the excitement soon vanished. During a checkup, the couple was presented with devastating news: the male twin no longer had a heartbeat. And because delivering him – the couple planned to name him Ryker – could jeopardize the health of his sister – Jozlyn – Brandi was forced to carry him through to term.
Over the next six weeks, Jozlyn continued to grow, and everything seemed to be progressing as planned. Brandi's body was still attempting to provide for both babies, which gave Jozlyn plenty of nutrients to help her develop.
When Brandi was at 32 weeks, while home alone, she went into labor suddenly and delivered Ryker before calling Paul so they could go to the hospital in Carroll, Iowa, just 35 minutes from home in Denison. They were admitted, and the next day, Jozlyn was born. Despite arriving eight weeks early, she came out screaming and crying, which amazed the doctors and nurses in the delivery room, as babies born that early will often require the help of oxygen right away. Jozlyn was born weighing four pounds, nine ounces, and because the doctors didn't want to take any chances, they thought it would be best to get her to the NICU at Methodist Women's Hospital in Omaha.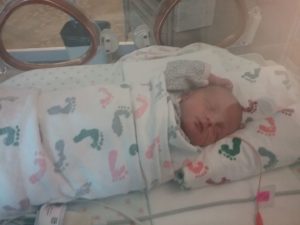 Of course, with Omaha more than 80 miles away, Brandi and Paul would have to find a place to stay while their baby girl was cared for. That's when the Ronald McDonald House stepped in.
During Jozlyn's stay in the NICU, her parents were welcomed with open arms at the House. Paul says it was so incredible how nice and supportive everyone was. They had a comfortable bed to sleep in at night and plenty of food waiting for them after spending long days in the hospital next to their baby.
Jozlyn had some trouble eating on her own, which led to some slight weight loss, dropping to four pounds early in her stay. She also struggled to maintain her body temperature, but she fought through that, and with the help of her doctors, she slowly began adding the weight back.
Because Jozlyn was doing so well, Brandi and Paul even took a few hours to themselves at Omaha's Henry Doorly Zoo, using passes donated to the House. It was a great opportunity to get away from the medical environment, even if only for a morning.
After 38 days in the NICU, Jozlyn had gotten up to five pounds, seven ounces, and the family was able to go home together. They've gotten settled in back in Denison, and Jozlyn is still growing and thriving. With everything they had gone through, Brandi and Paul are beyond grateful to have had the support of the House during the toughest time of their lives.
To help us continue to support families like Jozlyn's, donate today.