April 2, 2019
'I was that kid': One volunteer's past provides hope for the future
Every weekday afternoon, a school bus comes to a stop in front of the Ronald McDonald House. As the children walk off the bus and into their temporary home away from home, they're greeted by the friendly smile of a front desk volunteer. But one day every week, that smile shines a little bit brighter. On that day, the front desk volunteer lights up when the children walk in, and she sees the joy they have, in spite of their medical challenges. She smiles because she understands how difficult that journey is. She smiles because, in her words:
"I was that kid."
---
Autumn Henkenius is a lot like many of the volunteers at RMHC in Omaha. She's enthusiastic, kind, and always willing to help in whatever way possible. But her past gives Autumn a different perspective on what goes on here, and gives her an even stronger appreciation for what these families, and these kids, go through.
Growing up in northern California, Autumn learned all about what it's like to spend days and weeks in a hospital room. At seven years old, she was diagnosed with ulcerative colitis, a condition that led to several hospital stays, often for up to six weeks at a time. Her family moved to Oklahoma when she was 10, and shortly after that, she was diagnosed with psoriasis. A few years later, she developed psoriatic arthritis.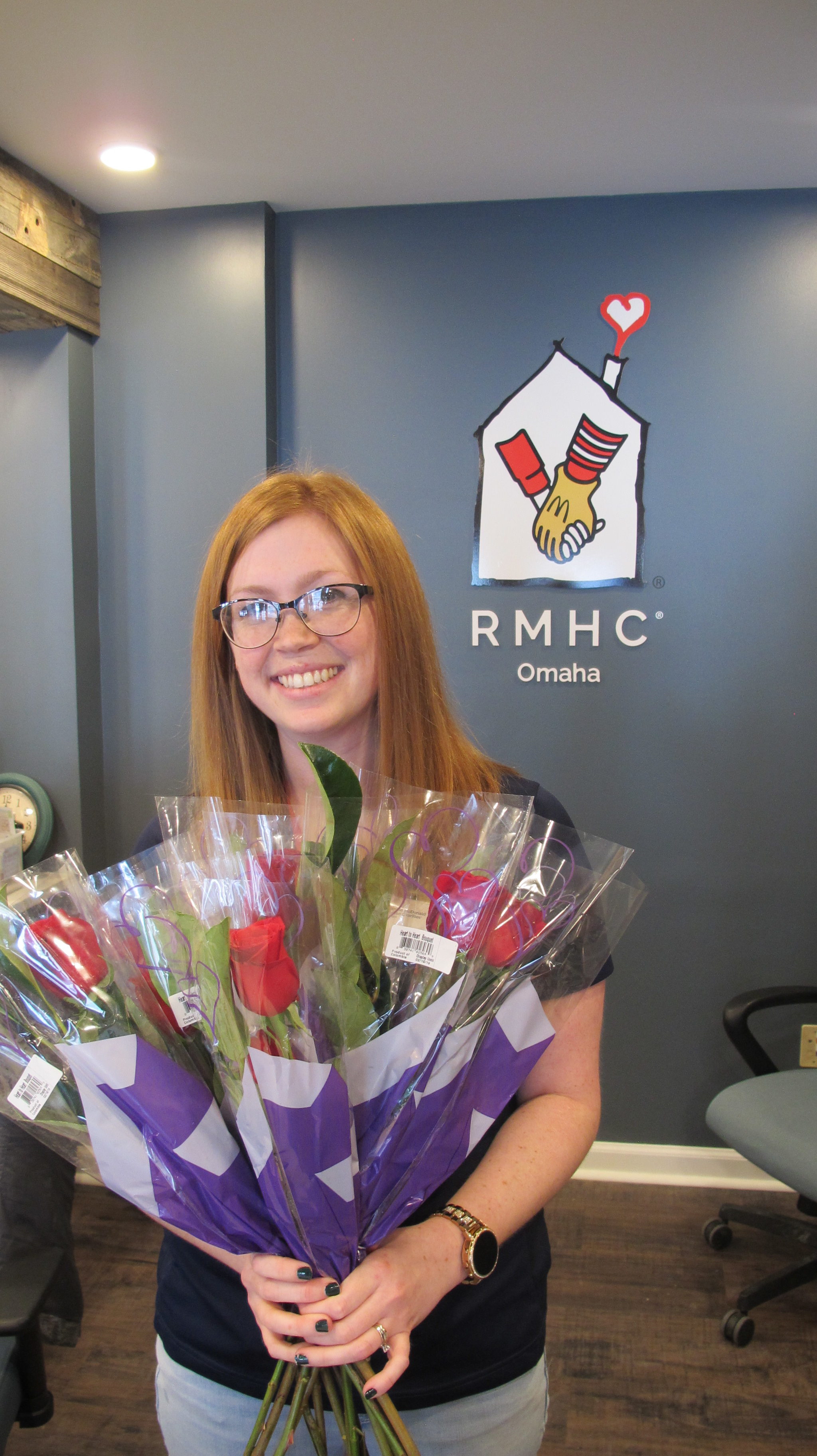 To treat her conditions, Autumn had to be admitted to a children's hospital for long periods of time. Her mother and stepfather were almost always by her side, but in the times when they needed an escape, a reprieve from the stressful and often crowded hospital room, they had a comfortable space to which they could retreat. Where they could relax, have a cup of coffee, and just take in a moment of peace. All thanks to Ronald McDonald House Charities.
There was a Ronald McDonald Family Room in the hospital, where caregivers had respite while their children were being treated. For Autumn's mom and stepdad, it was a much-needed oasis. Autumn says having that Family Room allowed her family not only a relaxing place to sit and de-stress, but also a supportive environment for them to feel comfort. She says, "It's full of people with children in the hospital, so just being surrounded by that community that can empathize with you is huge."
As a child going through so many medical treatments, it was difficult for Autumn to grasp just how much her mother and stepfather went through to care for her. Looking back, she realizes how difficult it must have been for them, which makes her even more grateful that they had a Ronald McDonald Family Room available when they needed it.
Because of her history, Autumn knew that she wanted to give back, and she found herself passionate about education. While she studied to become a teacher at the University of Nebraska Omaha, her schedule allowed her time to volunteer. Autumn soon discovered the perfect place for her to be: Ronald McDonald House Charities in Omaha.
Once a week, Autumn spends four hours at the front desk, answering phone calls, assisting with data entry and just about any other task with which our staff needs help. Autumn says "It feels great knowing that I can contribute in a way like this, because to me this is my community." She adds that while her diagnoses may not be exactly the same as the children in our House, "I can relate to everyone here."
That ability to relate shines through as Autumn talks about her favorite part of volunteering at the House.
"It's just the fact that I was that kid. I've been in their shoes. I know what it's like. And just knowing that people are willing to give back to an organization whose main focus is [helping families]…how could you not want to be a part of that?"
She also loves being at the front desk, because she knows that seeing a friendly face can make a big impact for a family facing these illnesses. "You don't know what kind of day they've had. You don't know if their kid in the hospital is doing well and they're going home, or if something not so great happened. So just being able to do something small like greet them, ask them how they're doing, or just open a door can lift their spirits."
Autumn may only be in the House for a few hours each week, but her presence always provides a tremendous amount of joy to everyone she encounters. Emily Mozer, Volunteer and Events Manager, says "Autumn has a great amount of creativity, compassion and dedication which makes her an amazing volunteer. She brings such an upbeat energy to the front desk and is so welcoming to all of our visitors and families. Not only does she bring positivity to the House, but she is also always on board with helping the staff or families with projects and events."
While Autumn's history provides her with a unique perspective as a volunteer, she's quick to note it's certainly not a prerequisite for making a difference:
Even if you haven't gone through anything like these families have, it doesn't mean you can't give back. It doesn't mean you can't relate to the people in the House. Everyone in this House is human and everyone goes through different challenges, whether it's with health, or whether it's with other things going on in your life. Volunteering here can bring so much joy to yourself and to others.
If you'd like to join Autumn in bringing joy to our families, contact Emily Mozer at emozer@rmhcomaha.org or 402-346-9377.